NW POETRY PRESENTS: "A Fawn in Winter,"
Ballad of a Christmas Card
by Eben
---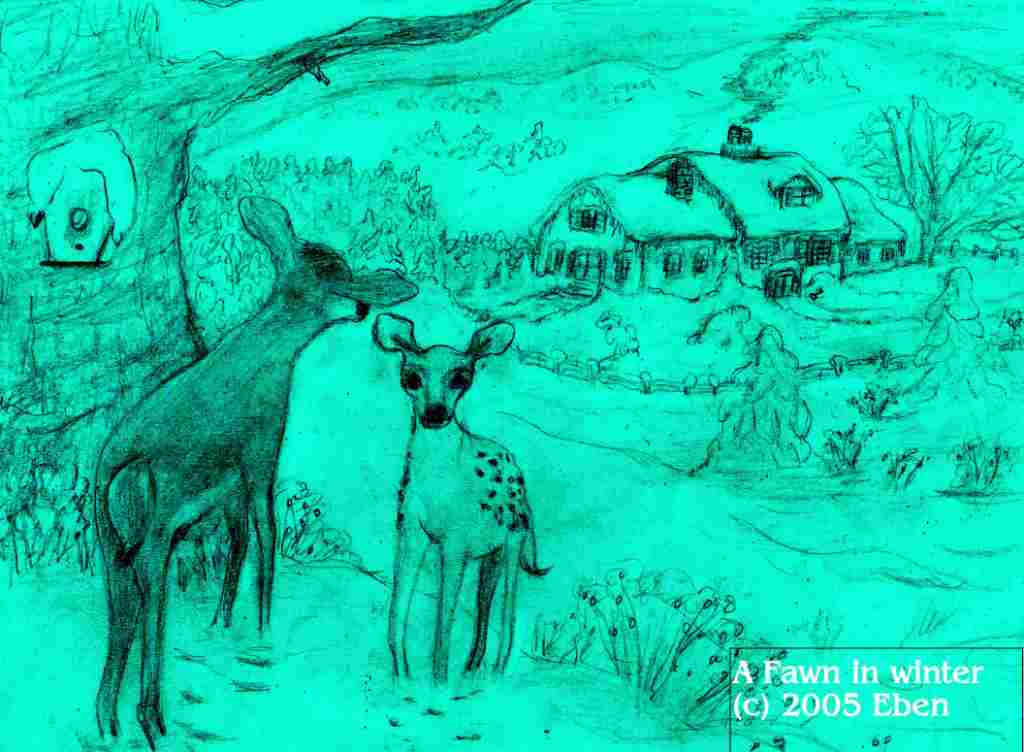 I
A doe stood daintily in snow,
her fawn stayed close by mother's side.
Toward the house they dared not go,
they kept near woods where they could hide.
Though deer looked nice something was wrong.
Winter's icy, cold and hard,
that fawn would freeze before too long!
How fatal flicked the artist's brush
that thrust new life in jaws that crush!
For just beyond this peaceful scene,
weren't there wolves grown hungry, lean?

---

Refrain:

Rejoice, rejoice, though dark the year;

let joy now warm our hearts with cheer!

What better reason can there be?

A Christ-Fawn come, for you, for me!

---

II

I pinned the card onto my tree,then went to bed most prayerfully.

"Save the Fawn, O God, from harm.
If wolves attack, give me alarm!"

Late at night I heard a sigh,

"It is finished!" was the cry.
I ran into the living room,
but found no thief, met only gloom.
Somehow my tree lighted bright
had turned a dead thing--doleful sight!
Too late to fix the trouble there,
I went to bed, but found rest rare.
Crash! a sound wrenched me from bed,
loud enough to raise the dead!
I stumbled forth my heart fear-struck,
and found the living room had shook.
My tree lay down upon the floor,
and--what's more--the front hall door!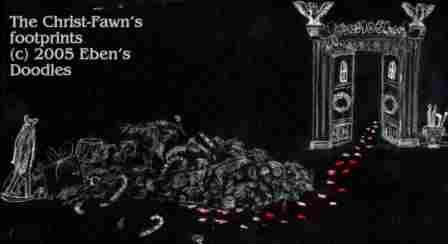 It opened wide, and small neat prints,
all red with blood in vivid tints
led outdoors into the world--
a house to house canvass unfurled!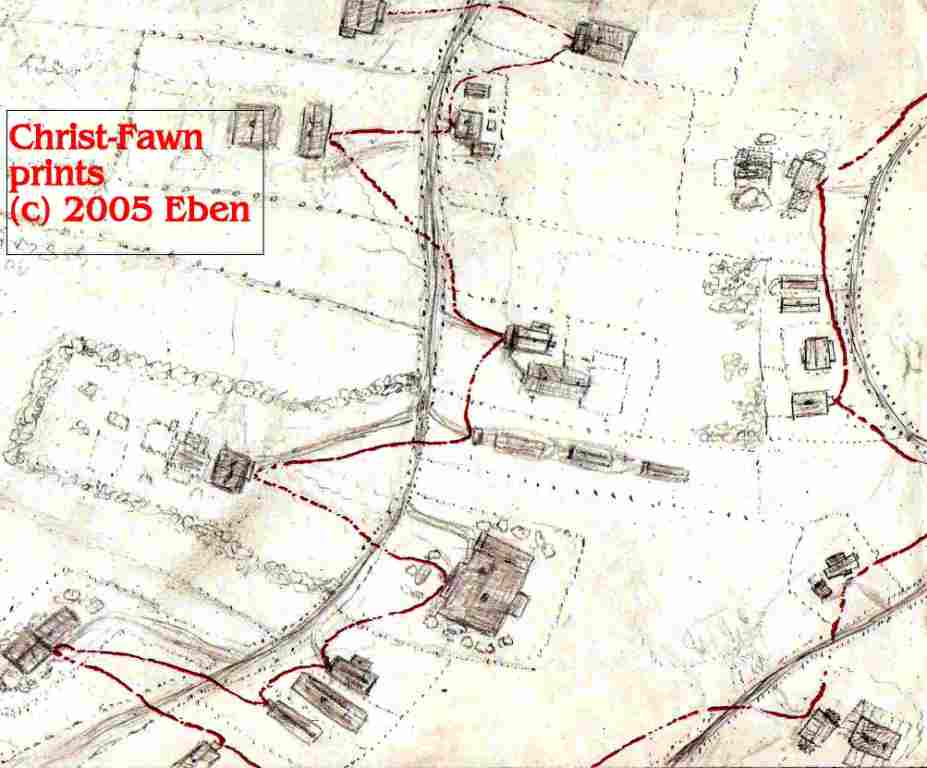 III
I snatched a card up to my eyes,
the Fawn was gone, to my surprise!
But small, red prints led to my door.
It was MY house!
I almost swore.
I looked around, not much was changed,
and yet my life seemed re-arranged.
a visitor just then came by:
A woman, weeping between each sigh!
She stood where red Fawn prints stained snow,
"Forgive me, please! I know! I know!
It wasn't you, I was blinded,
To choose a life as good as dead.
But then a Fawn, he led me here.
He conquered all my darkest fear!
Where he went I cannot tell,
but I've been lifted from my hell!"
I listened hard, my hands both shook,
it sounded like a story book!
But there she stood before my eye--
I could not possibly deny.
IV
The Fawn's blood prints led to the world;
countless were those reconciled.
Families, divorced, white or black,
found a peace that held no lack.
"Peace on Earth, good will to men..."
to which I say, "Amen! Amen!"
*********
---
(c) 2006, Butterfly Productions, All Rights Reserved